Forums : Editor Questions : What Modifications Do You Have Planned for your Vehicle? (22849 Views)
November 20, 2014
Welcome to the site Adams
DTW Webmaster & Nebraska Chapter President. --- SITE PROBLEMS? --- hit me at bob@cypher.com
November 23, 2014
I would love to have that remote start system. I go to work around 1-2am and some mornings it`s really cold here. Would love to be able to start the truck while I`m still inside getting ready and have it all warm inside when I get in and leave.
I doubt the neighbors would love it though. Since my truck has straight piped stacks. When I leave I turn the key to the on position and let it warm the block for a 15 seconds, then start the truck and slowly leave the area. I got dirty looks from my next door neighbor this afternoon cause I had to start the truck to run the air compressor cause I have a low tire that needs to be fixed but no funds are available at this time.
2016 Dodge Ram 3500 Mega cab, 6.7 L Cummins Diesel, Blue Streak Pearlcoat.
November 24, 2014
I`m in the process of adding some backup lights. I bought some cheap 18w LED lights off EBay. Still working on how I`m gonna mount them.
December 7, 2014
I finally got the backup lights finished. I just fabricated a L shaped bracket from some flat stock and mounted them to existing holes in the rear frame horns. I tapped them into the reverse light wire on my 7 pin connector for power so they automatically come on when I put the truck in reverse.
December 8, 2014
Wandell that looks good. I`ve always wanted to do that.
Should have, is a favorite phrase for those looking for excuses.
December 9, 2014
I put in a set of Thuren sway bar end links last year. They were adjustable with heim joints on both ends.
I wasn`t happy with them and just swapped them out for a set of Maxxlink end links. Much happier with these.
2004 2500 QC, CTD, 48RE, 4X4, Big Tex Grill Guard, Big O BigFoot XT 35x12.5x17
December 17, 2014
I`ve ordered a Senergy steering box brace and a mesh grill for Christmas.
December 19, 2014
I also thought the 12 inch MBRP exhaust tip looked a little short and I wanted a black one so I replaced it with a 15 inch Flo Pro tip.
December 20, 2014
Wandell that tip looks good. There is a red `06-`08 dually riding around here with a tip that makes the 5lbs folgers coffee can look small.
like this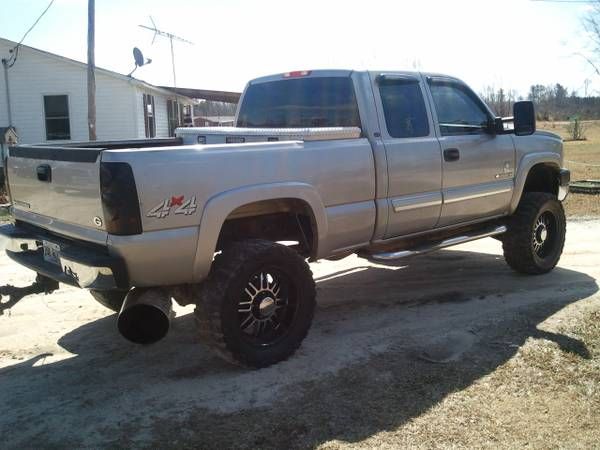 Should have, is a favorite phrase for those looking for excuses.
Post Message
BECOME A MEMBER TODAY!
Join.
Forums : Editor Questions : What Modifications Do You Have Planned for your Vehicle?